Top 5 Ways to Boost Immunity

Now more than ever, people across the globe are concerned with boosting immunity. Everyone wants to know how to prevent infection and disease, how to protect themselves when exposed, and how to ultimately stay healthy. And, rightfully so. The news is full of stories of people struggling with various maladies, and people are scared of something similar happening to them. So, what can we do? The immune system alone is immensely powerful. And when supported correctly, it can play an even bigger role in protecting your health and preserving your well-being. 
 Here are the five BEST ways to support your immune system and protect your health:
Most people work stressful jobs, manage commutes (even now!), support families, deal with illnesses, and face all the other things that can make modern life stressful. But, the connection between mind and body is real – and things that tax the mind take their toll on the body as well. Short-term stressors aren't the main problem, but scientists suspect that chronic stressors can severely inhibit your body's ability to fight off infection. 
You can try to minimize stress in many ways, but if you struggle with it, one way to help your immune system is to get a vitamin infusion. MedHealth360 offers an immune-boosting specific infusion that provides hydration to the cells, as well as vitamins and minerals that have immune-support properties. 
2. Exercise and Eat a Healthy Diet
Working out regularly helps keep your body fit and ready to fight germs that come along. By controlling weight, preventing disease, and reducing stress, exercise plays a key role in immune support! Similarly, a healthy diet supports your body in the same way! MedHealth360 offers personalized diet and weight management programs, and we offer a Weight Management Bundle of supplements, which includes vitamins and mineral blends to boost metabolism, reduce cravings, & promote energy.
Any drugstore shelf is full of pills and capsules that claim to boost immunity, but not all of them do. Quality of vitamins is very important because not only do you want to protect yourself from the fillers and preservatives that budget brands use, but you also want to reap the benefits from the real ingredients that are used in high-quality supplements! MedHealth360 offers Thorne supplements, which are scientifically-backed, high-quality, clean-manufacturing vitamins with serious health benefits. 
4. Avoid Exposure - Wash Your Hands
Infection is caused by physical organisms, germs, that enter your body. One of the best ways to prevent disease is to take precautionary measures to ensure that these microscopic organisms don't enter your body in the first place! Washing your hands is the first line of defense for your immune system; by stopping the germs from entering your body, your immune system has less to fight!
5. Avoid Alcohol and Smoking
You've heard it before, but drinking alcohol in excess and smoking habitually are terrible for your health. So, it follows that your immune system would suffer as a result! If you're a smoker, quitting for good is the best solution. With alcohol, moderation is key in protecting yourself from the negative effects of too much alcohol in your body!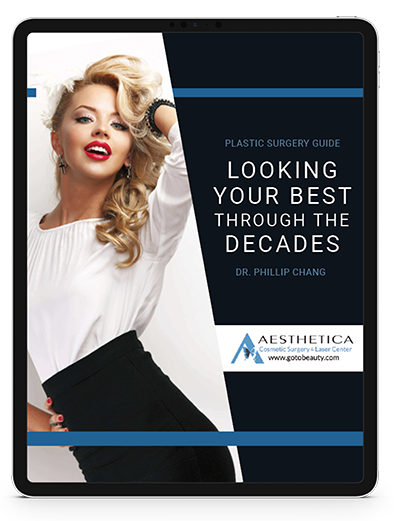 Insider's Roadmap to Every Decade of Life
Follow us on Youtube and watch our latest videos about plastic surgery procedures.
Find out the best health-boosting strategy for you
For those wondering whether vitamin infusions, supplements, or another health-boosting strategy might be a good fit for you, we invite you to come in for a complimentary consultation with Dr. Chang or one of the cosmetic laser and injection nurses to explore whether you would make a good candidate. To find out more about whether Aesthetica can help you, contact us online or at 703-729-5553 to arrange an appointment. Dr. Phillip Chang is a board-certified plastic surgeon in Northern Virginia near Leesburg, Virginia, and an expert in a wide variety of cosmetic treatments.
Our office can provide you with helpful information, schedule a free consultation, and walk you through the many services and procedures we provide.
Contact Dr. Chang's Office:
CoolSculpting is an advanced technology designed to freeze unwanted fat cells and permanently remove them from your body. keep reading to find out all about why CoolSculpting could be right for you!
Read More »