Let's Talk More About BOTOX Brow Lift: How Long Does It Last?

5

min read

The eyes are the windows to the soul. Sometimes, the window frames become old and worn over time. Yes, the window frames are our eyebrows. You can tell a lot about a person through their eyes, including their age. Many people develop permanent worry lines between their brows, giving them a constantly stern expression. Age, stress, and too much sun exposure may have drastic effects on our skin.
Luckily, we can turn to modern-day cosmetic surgery to enhance our appearance and correct any sagging areas. For example, cosmetic surgery involving the brows and eyes can soften the face and make you look more youthful. A BOTOX injection is a good choice for targeting the eye and forehead area. It is minimally invasive, and a small amount goes a long way. Just make sure to do your research and select the right doctor for the job – someone talented, experienced, and professional.
How Does a BOTOX Brow Lift Work?
Botulinum toxin is a protein produced by a toxin known as Clostridium botulinum. In cosmetic surgery, BOTOX injections relax the muscles underneath the skin and reduce their ability to contract. Wrinkles are formed when muscles tense too frequently, causing dents on the smooth skin. These dents eventually form wrinkles over time as you frown or move your eyes.
When the muscles are relaxed, they no longer contract as hard, so the wrinkles are less pronounced. Next, BOTOX is injected into the outer brow muscles in a typical brow lift, responsible for pulling the brows down. Once these muscles relax and weaken, the upper brow muscles are free to pull the brows upwards. This causes a lifting and smoothening effect on the skin.
A tiny needle will be used to inject the BOTOX solution to targeted areas of the outer brow. The procedure itself is quick and typically does not result in any significant pain. You may need an ice pack for the swelling, but it will subside in no time.
Your BOTOX brow lift will take as little as 20 minutes to perform. If you have a skilled expert doing your procedure, you can expect a pleasant and hassle-free experience.
How Long Does a BOTOX Brow Lift Last?
Some patients report that their BOTOX lasts up to six months. Lucky them! However, realistically speaking, visible effects will take anywhere from three up to seven days to appear and last for around three or four months. Of course, the effects of BOTOX are not permanent, so you would have to go back for routine touch-ups now and then. Nevertheless, it is good to know that you have a go-to solution for your pesky wrinkles anytime you wish. If you adore the effect of your BOTOX lift and you want your brows to stay relaxed, make a regular appointment with your doctor every few months to renew your aesthetic results.
Brow surgery is another option. Most people can return to their normal activities 1 to 2 weeks after getting brow surgery. That is a reasonable downtime, but using BOTOX takes much less time for you to return to normal. Most of the time, people can resume their regular daily routine on the same day if the swelling does not bother them too much. Though a brow surgery can last longer than a BOTOX brow lift, the latter is a good choice for first-timers, those who need quick results, or who are not ready to commit to surgery yet.
Not All Doctors are Created Equal
It may be tricky to choose a doctor when you are dealing with such a prominent feature as your face. Any mistakes or bad reactions could have disastrous results. Keep in mind that doctors require a special training certification from the American Board of Plastic Surgery before performing a BOTOX brow lift. Your doctor should not only have the proper training, but they should also have a pristine reputation and, ideally, several followers who swear by their talents.
Working with BOTOX is not an easy feat. The correct dose must be administered to a precise spot in the muscle. There may be untoward consequences if the doctor unwittingly injects BOTOX into the wrong part of your eyebrow. Restructuring the face is an art. Not all doctors are artists. Fortunately, Dr. Phillip Chang from Aesthetica Cosmetic Surgery & Laser Center is skilled in the art of BOTOX and is renowned for his expertise in the field. Dr. Chang has received multiple awards for his skill, talent, and caring attitude towards his patients. You can put your worries (and your wrinkles) at ease with Dr. Chang. Rest assured that he is more than capable of delivering your desired look!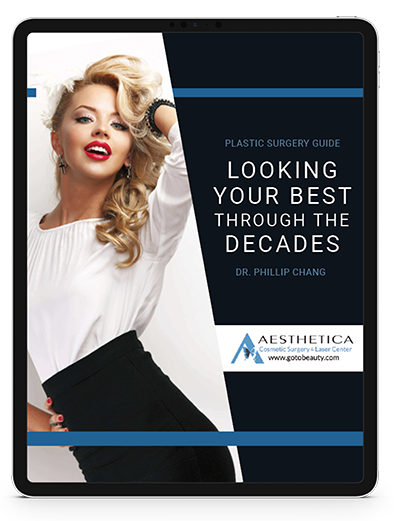 Insider's Roadmap to Every Decade of Life
Follow us on Youtube and watch our latest videos about plastic surgery procedures.
For those wondering whether BOTOX might be the best cosmetic solution for you, we invite you to simply come in for a complimentary consultation with Dr. Chang or one of the cosmetic laser and injection nurses to explore whether you would make a good candidate. To find out more whether Aesthetica can help you, contact us online or at 703-729-5553 to arrange an appointment. Dr. Phillip Chang is a board-certified plastic surgeon in Northern Virginia near Leesburg, Virginia and an expert in a wide variety of cosmetic treatments.
Our office can provide you with helpful information, schedule a free consultation, and walk you through the many services and procedures we provide.
Contact Dr. Chang's Office:
Stretch marks affect men and women of various ages and backgrounds. These silver, reddish, or purple streaks appear on different body parts, often evoking feelings of self-consciousness. But what exactly are stretch marks, and what causes them? In this detailed guide, we will delve deep into the types and causes of stretch marks, shedding light on this common skin concern.
Read More »