CoolSculpting vs. Kybella for My Double Chin: How To Choose

5

min read

Do you have a double chin? Yes, it's a common problem and can be embarrassing. If this is your case, then we have good news for you. There are effective treatments that will get rid of your double chin forever!
In this article, we will discuss two popular choices in getting rid of the double chin: CoolSculpting vs. Kybella. We'll compare the two treatments to help you decide which one is right for you!
A double chin is a condition where the lower portion of your face and neck becomes chubby, and fat deposits collect under the skin. It is a widespread aesthetic issue among women over 50 because of aging, but it can also happen in younger women due to weight gain or hormonal imbalances.
What Are CoolSculpting and Kybella?
CoolSculpting and Kybella are two popular choices in getting rid of a double chin. Both reduce fat by destroying fat cells with minimal downtime. However, there are some differences between them: CoolSculpting freezes away fat while Kybella destroys the nerves responsible for triggering fat production.
CoolSculpting for Double Chin
CoolSculpting has been around since 2009, and it has taken the country by storm. It claims to be "the only nonsurgical FDA-cleared fat reduction treatment that uses controlled cooling to eliminate stubborn pockets of fat." How does this work? There are no needles involved, so there's no need for anesthesia. You will feel a sensation similar to having an ice cube on your skin. If you feel uncomfortable during or after the procedure, painkillers can help tolerate the discomfort.
Kybella is the perfect injectable treatment for a double chin. It works similar to CoolSculpting by destroying the cells responsible for triggering fat production in the area where you apply it. However, instead of freezing away fat cells, Kybella kills them with a natural process called apoptosis.
Both treatments have minimal downtime and side effects. You can resume normal activities right after both procedures but always consult a physician before undergoing any beauty procedure. Both Coolsculpting and Kybella require several treatment sessions because there's no way to eliminate a double chin in one session.
CoolSculpting vs. Kybella: Side Effects and Safety
CoolSculpting has minimal side effects, but you can experience some redness in the area where you apply it. Experts don't recommend this product for people with acne or dark skin because it can worsen symptoms of these conditions. This treatment may also cause ice-pick marks—tiny holes in your skin that disappear within a few weeks after the procedure.
In contrast, Kybella comes as an injection that targets double chin fat cells. You will feel a slight sting as your doctor injects the solution to prevent any nerve damage. Afterward, swelling and soreness may appear, but you can recover in a few days. In some cases, Kybella can cause serious side effects such as pain and bleeding, so it's not suitable for people with a history of severe allergies or difficulty in healing.
CoolSculpting vs. Kybella: Which Should I Choose?
Since both CoolSculpting and Kybella have their pros and cons, it's best to consult a plastic surgeon to know what's right for you. In general, CoolSculpting is recommended if your double chin is caused by loose skin or fat deposits from weight gain. But when sagging muscles cause the condition in the neck area, then it may be better to try Kybella. Although Kybella is FDA-approved, experts don't recommend this product for people with dark skin because it can cause hypopigmentation—skin lightening that can take several months to recover.
CoolSculpting vs. Kybella: The Verdict
A double chin can ruin an otherwise flattering appearance, but many nonsurgical treatments are available for double chins today, including Kybella and CoolSculpting. Of course, it's up to you which one works best for you, so compare your choices carefully, think about the factors involved, and choose a treatment that matches your financial capabilities and skin type. When choosing between CoolSculpting vs. Kybella, always remember that although both of these procedures work well in getting rid of a double chin, they also have some differences depending on their mechanisms of action and side effects. Therefore, it's essential to consider all pros and cons before choosing either one.
The truth is that no beauty procedure will give you the same results as the other. So if you want to know if either CoolSculpting or Kybella is the perfect treatment for your double chin, don't hesitate to book a complimentary consultation with Dr. Phillip Chang so we can assess the case and help you in your treatment!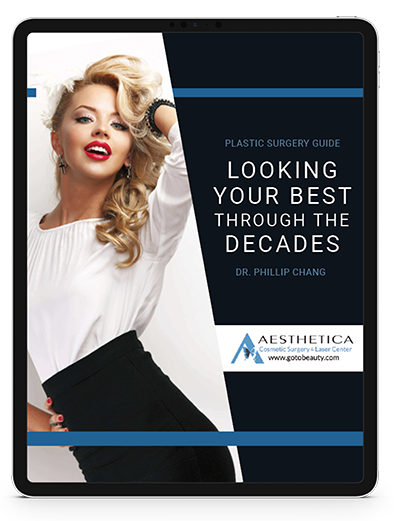 Insider's Roadmap to Every Decade of Life
Follow us on Youtube and watch our latest videos about plastic surgery procedures.
For those wondering whether CoolSculpting or Kybella might be the best cosmetic solution for you, we invite you to simply come in for a complimentary consultation with Dr. Chang or one of the cosmetic laser and injection nurses to explore whether you would make a good candidate. To find out more whether Aesthetica can help you, contact us online or at 703-729-5553 to arrange an appointment. Dr. Phillip Chang is a board-certified plastic surgeon in Northern Virginia near Leesburg, Virginia and an expert in a wide variety of cosmetic treatments.
Our office can provide you with helpful information, schedule a free consultation, and walk you through the many services and procedures we provide.
Contact Dr. Chang's Office:
Stretch marks affect men and women of various ages and backgrounds. These silver, reddish, or purple streaks appear on different body parts, often evoking feelings of self-consciousness. But what exactly are stretch marks, and what causes them? In this detailed guide, we will delve deep into the types and causes of stretch marks, shedding light on this common skin concern.
Read More »