Who has ever mentioned the phrase "plastic surgery" without considering bringing extra volume to their cleavage? Breast augmentation has become a household name for the entire industry, so much so that over 360,000 such procedures were performed in the US in 2021 alone! The thought of flaunting voluptuous breasts and the self-confidence that comes with them are enough of a reason for women to flock toward getting breast augmentations!
But there's one key step to take before scheduling a breast augmentation procedure: choosing the ideal breast implant size. Although the excitement of adding volume to your cleavage is part of the process, getting psyched about the procedure is only half the battle. Most women think, "I want my breasts to be bigger," without envisioning the results. That is why consulting an expert in the field of breast augmentations, such as Board-Certified Plastic Surgeon Dr. Phillip Chang, will help you cover the entire process, from ideation to execution. The Aesthetica team of experts will use their expertise and state-of-the-art technology to help you bring your breast augmentation dreams to life!
What Is Breast Augmentation?
Breast augmentation surgery is a cosmetic surgical procedure that involves the insertion of implants to increase the breasts' size, shape, and firmness. The two most common types of breast implants are saline and silicone implants. Saline implants are filled with a sterile saline solution, while silicone implants are filled with silicone gel. The choice of implant type depends on several factors, including the desired breast size and shape, the patient's lifestyle and preferences, breast anatomy, and the plastic surgeon's recommendation.
What Does the Procedure Entail?
Breast augmentation procedures take an average of 60-90 minutes to complete under general anesthesia or IV sedation. Dr. Chang will use a long-acting pain anesthetic to provide pain relief for at least a few hours after your surgery.
We at Aesthetica employ the Keller Funnel technique for silicone implants to ensure the smallest of scars and minimal risks of infection and injury to the breast implant. Dr. Chang will create 3-centimeter incisions through which the chosen breast implants will be inserted under the chest muscle. Once the implants are positioned correctly, Dr. Chang will close the incisions using absorbable sutures.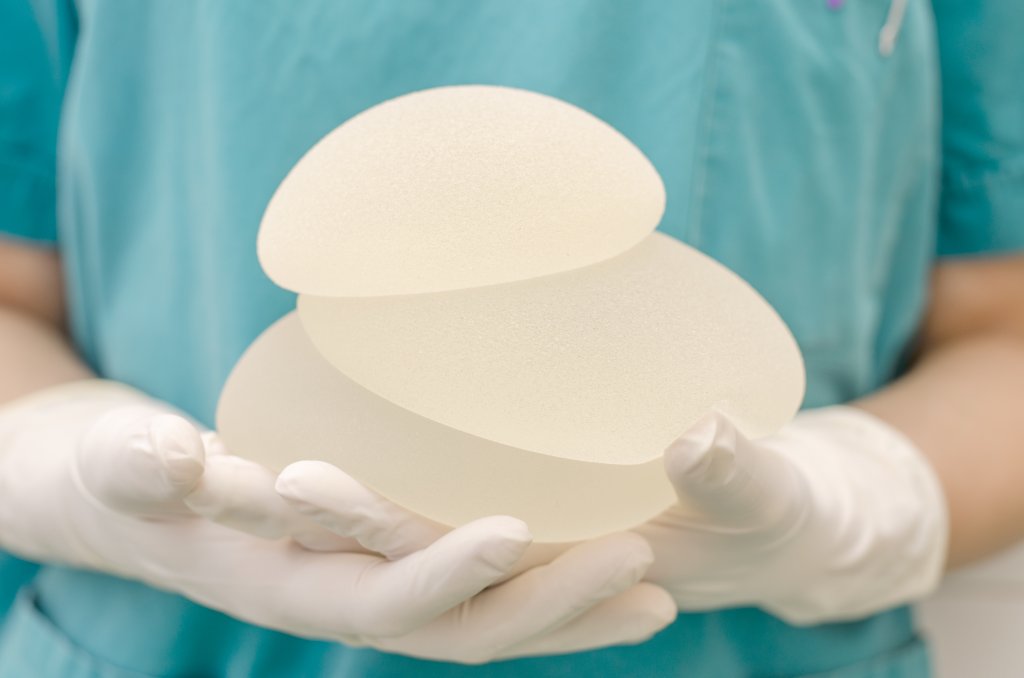 The Importance of Choosing an Implant Size That Complements Your Body Proportions!
Now that you have a deeper understanding of how breast augmentations work, let's cover how to pick the ideal breast implant size for you! Zeroing in on a breast implant goes further than "I want them to be bigger" — various factors come into play when settling on an implant size, each important enough to have a say in your breast augmentation results!
How To Describe Your Desired Look and Size Options
The first step toward choosing a breast size is accurately knowing your current size and the size you're aspiring to be. If you're already clueless about how to proceed, Dr. Chang has a few suggestions that will help you make an educated guess:
1. Try On Bras at Victoria's Secret Before Your Visit
For consistency, Dr. Chang likes his patients to use

Victoria's Secret bras

to test breast and bra sizes. Nordstrom bras, for example, are often one to two sizes larger than what is reported for the same bra size.  

Wear a dress that you like and that accentuates your physique.

Find a bra that fits you now and use it as a starting point. Then find a bra that is one, two, and three sizes larger. Fill the bras to help you discover the size you will be happy with. 
2. Find and Bring a Breast Model With a Similar Frame That You Want To Emulate
Although less accurate, many patients will bring pictures they might want to emulate. However, the major problem with this method is that sizes are not often reported accurately (depending on where they buy their bras).
3. Understanding the Difference Between Cup Size Increase and Breast Implant Volume
Patients and plastic surgeons do not always speak the same language. While the former think in cup sizes (since that's the measurement they're accustomed to), the latter interprets breast augmentations in implant volume. Therefore, we've put together a comparison table to bring more clarity to the differences between the two:
Using 3D Imaging Technology To Preview Your Results
The wonderful news about entrusting your breast augmentation in the hands of Dr. Chang is the opportunity to see your dream breasts before entering the procedure room! Our Visia 3D imaging will be tremendously helpful in choosing the right breast implant size! While it is still imperative to conduct some research yourself, Visia 3D imaging allows you to transcend into the future and wonder at your breast augmentation results!
You may also experience some postsurgical side effects during the first week after your labiaplasty, such as minor bleeding, bruising, and inflammation, which will shortly go away.
What You Need To Know Before Making Your Final Decision
There are no shortcuts to choosing the perfect breast implant size — it is a critical step that requires careful consideration and consultation with a qualified plastic surgeon. The ideal breast size and shape vary from patient to patient and depend on several factors, such as body type, weight, and breast tissue density. All of these factors must be considered if you're aiming for long-lasting breast augmentation results!
1. Matching Your Desired Implant Size With Your Body Proportions
One of the essential considerations in choosing the desired breast look and size is how they complement your body proportions. For example, women with a slender frame and a small body type should opt for a smaller implant size, while those with a more curvaceous figure may choose a larger one. Respecting your body proportions will help prevent future health issues, such as back or shoulder pain caused by excessively large implants.
2. Don't Let Your Breast Implants Affect Your Lifestyle
You will not be satisfied with your breast augmentation results if they end up clashing with your lifestyle. For example, if you are engaged in athletic or high-impact activities, opting for smaller implants to avoid discomfort or inconvenience during physical activity is recommended. Also, are you comfortable with showing off your voluptuous new bustline, or would you prefer to keep it on the down-low? Take a second to weigh all of these considerations before deciding on implant size. 
3. Considering Your Tissue Density and Skin Elasticity
Another essential aspect to think about when choosing your implant size is your breast tissue density and skin elasticity. Unfortunately, pregnancy and the natural aging process will cause your breasts and nipples to gradually elongate and droop, affecting their aesthetics. Moreover, women with children will experience upper breast deflation, given that their breasts were stretched with pregnancy and breastfeeding. That is why choosing a breast implant for young women who have not had children is very different from choosing one for women who have had children:
Women with minimal volume loss and breast droop do best with smaller to moderate-sized breast implants.

Women with upper breast deflation aim not primarily for larger breasts but to improve volume loss, lift their breasts, and readjust the nipple position.

Women with significant volume loss or breast droop will likely look for a larger implant that might not be appropriate for their lifestyle, appearance, or activity levels. That is why we believe they will benefit from a small breast implant and a surgical breast lift instead.
4. You Might Also Need a Breast Lift
If your nipple position is below the bottom margin of your breast or if the nipple position and breast are more than 1-2 centimeters below your inframammary crease, you should also consider a surgical breast lift. Opting for breast augmentation without a lift will cause the breast implant to sit high while the breast still hangs low along with the nipple position.
5. Put Your Breast Augmentation Into a Long-Term Perspective
The success of your breast augmentation procedure is a long-term project. You may be pleased with your voluptuous breasts now, but what if you have a change of heart 10 years from now? Or what if future lifestyle changes clash with your breast size? You must consciously commit to your future self before deciding on a breast implant size.
Choose the Perfect Breast Implant Size at Aesthetica!
Our office can provide you with helpful information, schedule a free consultation, and walk you through the many services and procedures we provide.
Contact Dr. Chang's Office:
Stretch marks affect men and women of various ages and backgrounds. These silver, reddish, or purple streaks appear on different body parts, often evoking feelings of self-consciousness. But what exactly are stretch marks, and what causes them? In this detailed guide, we will delve deep into the types and causes of stretch marks, shedding light on this common skin concern.
Read More »