When is a Liquid Facelift Needed?

4

min read

Patients are noticing signs of premature aging at younger and younger ages. Whether it's because of busy routines and harmful habits, or simply because of natural factors, men and women become concerned when the person they see in the mirror looks older than how they feel inside.
What Happens to Our Skin As We Age?
However, aging faces should not surprise patients. As we age, our skin loses its elasticity, and the facial structure modifies itself. Aging harms the collagen and elastin production, the two proteins responsible for the skin elasticity. The less collagen our skin produces, the more the deep skin layers lose fat. This causes sagging, loose skin that is more prone to wrinkling, especially around the cheek and eye areas where the skin is more prone to premature aging.
Patients can search for numerous surgical treatments to reverse the aging process, yet not everyone can afford the recovery time demanded by these procedures. If you're one of these patients, what you need is a liquid facelift!
What is a Liquid Facelift?
A liquid facelift, also known as the 8 Point lift, is a non-surgical technique designed to improve eight strategic facial areas while sparing the cost, recovery time, and risks of surgery.
During the procedure, the plastic surgeon performs several injections containing substances capable of lifting tissue and restoring the facial structure. Some injectables include neurotoxin injectables (Botox, Jeuveau), hyaluronic acid-based fillers (Juvederm Voluma XC, Juvederm Vollure), and collagen-based fillers (Sculptra, Radiesse).    
What Benefits Does a Liquid Facelift Provide?
It's a Non-Invasive Procedure
For many patients, the prospect of a surgical procedure done under general anesthesia can be frightening. A liquid facelift is a more comfortable procedure since it does not involve deep incisions or general anesthesia. Patients can leave the operating room without any hospital time.  
Patients consider side-effects a crucial factor in choosing the right treatment. Since a liquid facelift does not imply surgery, the risk of bruising, infections, and more severe complications – such as excess bleeding, skin discoloration, and cardiac problems – are significantly reduced.
The price of surgical procedures depends on numerous factors, such as the operating room, anesthesia, medical team, additional patient care, etc. The liquid facelift treatment is a cost-effective solution for patients who want to avoid excessive prices and return to their normal routine once the procedure is done.
Determining the price for your liquid facelift procedure requires a consultation with a board-certified plastic surgeon, who will take three major factors into account: the type of facial filler used, the number of injections, and the desired results.
The prospect of long hospital and recovery time discourages most patients from undergoing a facial rejuvenation treatment, since not all patients can afford being away from their workplaces for several days.
A liquid facelift is an outpatient procedure, meaning that the patient can leave the operating room without any hospital time. The whole procedure takes roughly an hour, regardless of the injected substance. Following the treatment, you can once again enjoy your daily routine and favorite activities!
How Long Do the Liquid Facelift Results Last?
When considering a liquid facelift, most patients ask about the longevity of the results. Although surgical procedures are known for long-lasting results, that should not discourage patients from undergoing a liquid facelift. On the contrary, liquid facelifts can provide enduring results, depending on the type of injectable.
Neurotoxin injectables, such as Botox and Jeuveau, last for up to 4-6 months. Hyaluronic acid-based fillers, such as Juvederm products, can last up to a year. And last, collagen-based fillers are the most effective, with results lasting up to two years.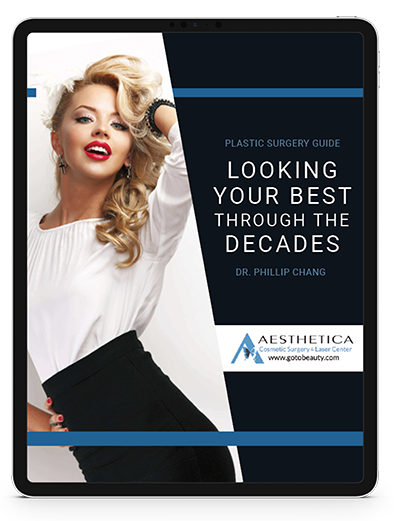 Insider's Roadmap to Every Decade of Life
Follow us on Youtube and watch our latest videos about plastic surgery procedures.
Is a Liquid Facelift Right For You?
For those wondering whether a liquid facelift might be the best cosmetic solution for you, we invite you to simply come in for a complimentary consultation with Dr. Chang or one of the cosmetic laser and injection nurses to explore whether you would make a good candidate. To find out more whether Aesthetica can help you, contact us online or at 703-729-5553 to arrange an appointment. Dr. Phillip Chang is a board-certified plastic surgeon in Northern Virginia near Leesburg, Virginia and an expert in a wide variety of cosmetic treatments.
Our office can provide you with helpful information, schedule a free consultation, and walk you through the many services and procedures we provide.
Contact Dr. Chang's Office:
How often should you return to your cosmetic surgeon to keep that fabulous face of yours in tip-top shape? From understanding when those marvelous fillers begin to fade to decoding the signs that it's time for a little touch-up, we've got you covered!
Read More »