New Botox Use: Anti Depression!

4

min read

Botulinum Toxin type A (Botox) is one of the most sought-after treatments by patients who want to temporarily reverse natural aging signs, such as wrinkles or frown lines, without resorting to invasive surgical procedures. While most patients are accustomed to the cosmetic advantages, only a few of them have researched the medical benefits brought by this treatment.
What are the Other Medical Benefits of Botox?
The history of Botox use has been in constant change since it received its FDA approval for cosmetic use in 2002. Since then, Botox has been tested for a myriad of medical conditions, with positive results. Today, Botox is approved for nine medical conditions, mostly related to the neurological aspects of our bodies. The most common ones are the following:
Chronic migraines
Urinary incontinence
Strabismus or Crossed eyes
Cervical dystonia or Severe neck spasms
Muscle contractures
Lazy eye
However, apart from these conditions, scientists have confirmed the link between Botox and one of the most widespread mental conditions of our age: major depression disorder (MDD).
The benefits of Botox on patients with MDD have not been studied until recent years. In 2014, a team of American published an article on the Journal of Psychiatric Research, proposing that the Botulinum Toxin type A be considered an efficient replacement for antidepressant medication.
Can Botox Treat Depression?
The thesis on which the team had conducted its research is the following: because facial muscles, when expressing emotions, are sending feedback signals to the brain to reinforce those emotions, interrupting this cycle with Botox could bring positive results to patients suffering from MDD.
By applying this treatment to 121 subjects, the research team has concluded that positive effects on mood have been shown by patients who were treated with Botox for their frown lines located between the eyebrows, as opposed to the ones who received placebo treatments. Six weeks after the treatment, the group of subjects treated with Botox has shown an average 47.1% reduction in depression symptoms, compared to the 9.2% from the placebo group.
In other words, the researchers conclude that facial expressions associated with MDD could be not only consequences but an integral component of this disorder, which is why medical specialists could employ Botox instead of antidepressant medication as a new approach to the treatment of clinically low mood.
Since this study was published, more research teams began to show interest toward the link between Botox and MDD, with more results published during the last years, specifically in 2017 and 2020, concluding that Botox is a safe, efficient treatment for patients with MDD.
Botox for Depression: How Does It Work?
This new approach toward safer, less-dependent on antidepressant medication treatment of MDD uses the benefits brought by Botox to block feedback signals sent by facial muscles to the brain. The most important of these muscles, which we regard as key in expressing distress, are Corrugator Supercilii and Procerus.
The Corrugator Supercilii, a thin muscle situated at the corner of the eyebrows, near the nose, is responsible for shaping the eyebrows toward the nose, creating a "frowning" appearance. When often contracted, the muscle allows vertical wrinkles to appear on the forehead, which is considered a clear sign of distress.
Close to the Corrugator Supercilii, we find another muscle connected to signs of distress, named the Procerus. Extending from the lower part of the nasal bone to the middle forehead area, it contracts the skin between the eyebrows to produce transverse forehead lines when we are distressed.
Although it has not yet received FDA approval for treating MDD, current research shows that Botox could soon become a top alternative for patients who want to experience a different approach, relying less and less on antidepressant medication.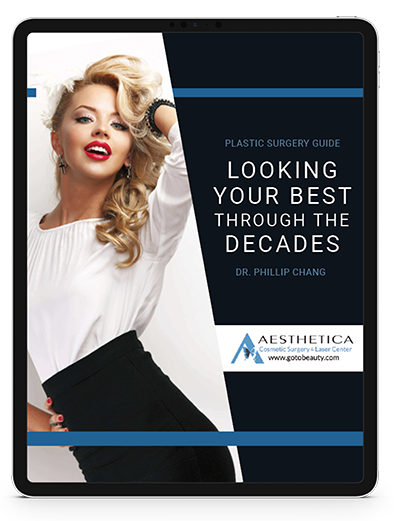 Insider's Roadmap to Every Decade of Life
Follow us on Youtube and watch our latest videos about plastic surgery procedures.
For those wondering whether Botox might be the best solution for you, we invite you to simply come in for a complimentary consultation with Dr. Chang or one of the cosmetic laser and injection nurses to explore whether you would make a good candidate. To find out more whether Aesthetica can help you, contact us online or at 703-729-5553 to arrange an appointment. Dr. Phillip Chang is a board-certified plastic surgeon in Northern Virginia near Leesburg, Virginia and an expert in a wide variety of cosmetic treatments.
Our office can provide you with helpful information, schedule a free consultation, and walk you through the many services and procedures we provide.
Contact Dr. Chang's Office:
Navigating the world of breast augmentation means facing some crucial decisions, and one of the most discussed is whether to place implants over or under the chest muscle. This article delves into the nitty-gritty of both options, highlighting the pros and cons to help you make an informed decision.
Read More »