How to Treat Facial Wrinkles in Men?

4

min read

As the natural aging process takes place, patients begin to consider rejuvenation treatments especially for the most visible wrinkles: facial wrinkles! While the patients who undergo facial rejuvenation procedures are mostly women, more and more male patients are showing an interest in reducing visible signs of aging.
How Do Facial Wrinkles in Men Form?
The natural aging process affects the facial skin texture because it slows the collagen and elastin production, the proteins that are responsible for the skin's structure and flexibility. This process can leave more pronounced signs of aging for male patients since they have a larger facial muscle mass than women.
What Causes Facial Wrinkles in Men?
Although we consider them signs of old age, facial wrinkles can appear in some men in their 20's. Medical science has identified numerous natural factors affecting our skin texture, such as genetics, skin color, hormones, habitual expressions, and gravity. Apart from genetic factors, an improper diet, smoking, and sun exposure can lead to an increased number of facial wrinkles.
What Treatment Can a Plastic Surgeon Recommend?
The most efficient types of treatment for men's facial wrinkles are injectables. When injected into the treatment area, these chemical substances act on different layers, supporting muscle tissue and plumping up the skin. The result is smoother, wrinkle-free skin. The two major types of injectables are neurotoxin injectables and dermal fillers.
What is a Neurotoxin Injectable?
Neurotoxin injectables block the nerve signals that cause muscles to contract. This treatment minimizes the damage caused by repetitive face movement around the eyes, on the forehead, and between the eyebrows. The most common neurotoxin injectables are Botox®, Xeomin, Dysport, and Jeuveau.
Dermal fillers use collagen or the patient's body fat to provide volume to multiple facial areas, such as the lips. This form of treatment restores the contour of the face and minimizes wrinkles for a more youthful appearance. The most common dermal fillers are hyaluronic acid fillers, such as Juvederm® and Restylane, and non-hyaluronic acid (synthetic) fillers, such as Sculptra, Radiesse, and Belafill.
How Long Do Injectables Last?
The longevity of injectable treatments mostly depends on the type of treatment and the treatment area: the product density and the depth of the injection must be considered for long-lasting results. However, patients should be aware that the effects provided by injectable treatments are only temporary and will gradually wear off. Treatment repetition, coupled with the experience of a board-certified plastic surgeon, is the most effective way of ensuring long-lasting results.      
Neurotoxin injectables are the most temporary option, requiring check-ups and new injections every four months, although longevity can increase every time the patient repeats the treatment.
Hyaluronic acid fillers can last anywhere between 6 to 18 months, depending on the treatment area, while synthetic ones can last for several years, as the body does not absorb them.
Patients will experience mild side-effects, such as bruising, redness, swelling, and itching, which can manifest themselves shortly after treatment administration. These side-effects are not dangerous to the patient's life and are expected to disappear within two weeks. However, serious side-effects that pose a risk to the patient's health can occur if the patient chooses an inexperienced health care provider.
Working with a board-certified plastic surgeon can ensure the patient's safety and well-being throughout the procedure and the recovery period.
Will The Plastic Surgeon Recommend Post-Treatment Care?
Injectable treatments are ideal for those who want to see results quickly after leaving the operating room. Patients can return to their daily activities without worrying about extended recovery time. However, plastic surgeons can recommend a set of guidelines to ensure the patient's satisfaction and long-lasting results:
Avoid touching and treating the injected area with unapproved substances for a few hours following the procedure.

Avoid vigorous exercise and external factors, such as excessive heat and sunlight, for at least 72 hours.

Avoid consuming alcohol and tobacco products to prevent excess swelling.

Use medical products such as Tylenol if you experience any discomfort.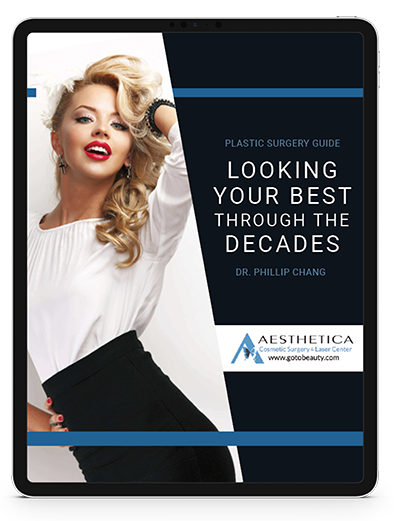 Insider's Roadmap to Every Decade of Life
Follow us on Youtube and watch our latest videos about plastic surgery procedures.
For those wondering whether injectables might be the best cosmetic solution for you, we invite you to simply come in for a complimentary consultation with Dr. Chang or one of the cosmetic laser and injection nurses to explore whether you would make a good candidate. To find out more whether Aesthetica can help you, contact us online or at 703-729-5553 to arrange an appointment. Dr. Phillip Chang is a board-certified plastic surgeon in Northern Virginia near Leesburg, Virginia and an expert in a wide variety of cosmetic treatments.
Our office can provide you with helpful information, schedule a free consultation, and walk you through the many services and procedures we provide.
Contact Dr. Chang's Office:
How often should you return to your cosmetic surgeon to keep that fabulous face of yours in tip-top shape? From understanding when those marvelous fillers begin to fade to decoding the signs that it's time for a little touch-up, we've got you covered!
Read More »