How Do You Improve Your Sun Damaged Skin?

4

min read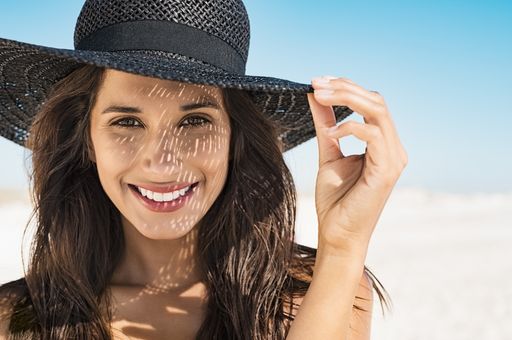 As winter rolls in, the remnants of summer begin to fade along with that glorious golden sun-kissed skin earned through hours of sunbathing sessions and outdoor adventures. As you say goodbye to sunshine and tan lines, one thing you may not be lucky enough to say goodbye to is your sun-damaged skin! Prolonged sun exposure periods can cause a myriad of skin issues, including wrinkles, sun spots, dry skin, Melasma, and even skin cancer. Fortunately for those of us who spent years much of our lives rubbing our bodies down in baby oil to achieve that perfect glow, hope is not lost! There are various products and treatments to correct and repair skin with its fair share of time in the sun.
Can you Reverse Sun Damaged and Aging Skin?
A good place to start reversing sun-damaged skin is with a good skincare routine that includes a few key ingredients. Most skin experts consider retinoids to be an essential element for stopping and reversing signs of aging skin. Retinoids are a group of vitamin A derivatives that promote collagen production and cellular turnover to keep your body producing new healthy skin cells. Niacinamide, a form of vitamin B-3, is believed to have an abundance of benefits for the skin, including reducing dark spots, improving elasticity, reducing fine lines and wrinkles, and reducing hyperpigmentation. Another important vitamin for reversing the signs of aging in the skin is vitamin C. Vitamin C is a powerful antioxidant that can neutralize free radicals in the skin and also promote collagen production. There are several topical products that contain these ingredients to help with signs of sun damage and aging. You can check out our skincare products line to find a solution to help with your specific needs.
What Non-Surgical Options Can Reverse Sun Damaged Skin?
There are several other treatments that you can get to help repair and reverse sun-damaged and aging skin. Laser treatments such as Forever Young BBL are a prevalent nonsurgical method to improve your skin's appearance. Lasers are used to affect different cells in the layers of the dermis and epidermis to create targeted results based on the desired outcome. For example, different cells will be affected in different ways using varying laser wavelengths for hyperpigmentation compared to collagen production. Laser treatments can be used to correct a wide range of conditions, including age spots, redness, freckles, unwanted hair, acne, skin rejuvenation, and more!
What About Laser Peels for Sun Damaged Skin?
Laser peels and chemical peels are other options used to create healthier, younger-looking skin. Both techniques are used to exfoliate and remove layers of skin, stimulating the production of newer younger skin cells. The depth of the peel can be controlled by the strength of the laser or the chemicals used. Laser peels can target more precise areas of the skin, while chemical peels tend to work better for broader areas. Though, laser peels can be used for larger areas as well. Again, these techniques can be used to correct a plethora of skin issues ranging from fine lines and wrinkles to sunspots and acne scars. You and your doctor can evaluate your skin goals and decide on the right treatment!
When it comes to maintaining a healthy, youthful glow, prevention truly is the golden ticket. There are certain simple steps you can take immediately to prevent signs of sun damage and aging skin. One way is to avoid the sun as much as possible! It is important to get your daily dose of vitamin D but avoid the sun when it is at its strongest during peak hours. If you find yourself in a situation where you are unable to avoid the sun, wear protective clothing, a sun hat, and a high SPF sunscreen for added protection. Luckily, several makeup brands add SPF directly into their makeup to protect against the sun's harmful rays. Last but not least, use quality skincare products! Your skin is something worth investing in! The right products and a good routine will help you hold onto the beautiful skin you were born with!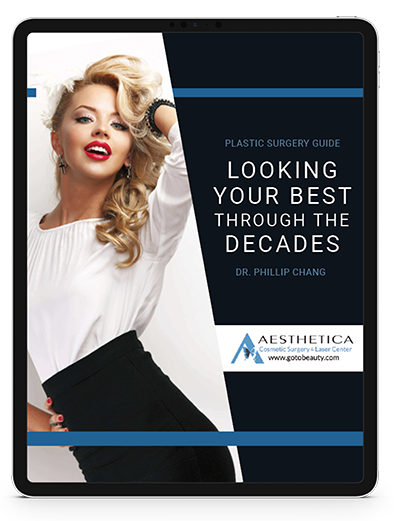 Insider's Roadmap to Every Decade of Life
Follow us on Youtube and watch our latest videos about plastic surgery procedures.
Learn more about how to improve sun-damaged skin
If you are worried about your sun damaged skin and want to learn more, we invite you to come in for a complimentary consultation with Dr. Chang or one of the cosmetic laser and injection nurses to explore whether you would make a good candidate. To find out more about whether Aesthetica can help you, contact us online or at 703-729-5553 to arrange an appointment. Dr. Phillip Chang is a board-certified plastic surgeon in Northern Virginia near Leesburg, Virginia, and an expert in a wide variety of cosmetic treatments.
Our office can provide you with helpful information, schedule a free consultation, and walk you through the many services and procedures we provide.
Contact Dr. Chang's Office:
Navigating the world of breast augmentation means facing some crucial decisions, and one of the most discussed is whether to place implants over or under the chest muscle. This article delves into the nitty-gritty of both options, highlighting the pros and cons to help you make an informed decision.
Read More »