Achieve Your Skin Tightening Goals with Morpheus8 Microneedling!
Wrinkles, fine lines, double chin, freckles, dark spots, and sagging jowls. These imperfections are synonymous with one word – aging.
Our skin directly reflects our age, or how we take care of ourselves for that matter. Eventually, we see these skin signs (and more) as the years go by. But for some, skin ages prematurely because of exposure to harmful factors like sun and pollution.
How we wish we could have taken more care of our skin to prevent it from aging fast. Well, wish no more! Our latest Morpheus8 Microneedling treatment is here to help!
Morpheus8 Microneedling is a combined micro needling and fractional radiofrequency technology that targets and penetrates deeper layers of the skin. It's the first of its kind that can be used not just for the face, but also for the whole body.
Microneedling allows RF to get deep into the subdermal tissue. Through this innovation, collagen production is stimulated and skin tissues are remodeled. The result – a firmer, more youthful skin, and a younger you!
Is Morpheus8 Microneedling Treatment for Me?
Morpheus8 is non-invasive and safe for all ages, skin types, and skin tones. In addition, it doesn't create thermal damage, and you have a lesser risk of post-inflammatory hyperpigmentation, a common side effect of similar resurfacing techniques. So if you are looking to improve your skin problems but are not inclined to surgery, Morpheus8 Microneedling is perfect for you.
Morpheus8 also works for the whole body. Wherever you have stretch marks, discoloration, or loose skin, there is nothing that Morpheus8 Microneedling treatment can't treat. We adjust the intensity levels depending on how much your treatment area needs. Each Morpheus8 session is tailored just for you!
Some of the imperfections Morpheus8 can correct are:
Acne and acne scars

Sagging skin under the eyes

Loose skin in the abdomen

Loose skin above the knee

Sun damage

Rough skin

Enlarged pores

And the list goes on
Results are seen almost immediately after the first treatment and continue to improve as weeks go by. Your skin cells will continue to rejuvenate for tighter and smoother skin.
You will find tons of Morpheus8 reviews exclaiming how satisfied they are with the results of their treatment. You'll see significant differences in their Morpheus8 before and after photos. 
How Long Is the Morpheus8 Microneedling Recovery?
One great thing about Morpheus8 Microneedling is that you won't need downtime. It's nonsurgical, so you can quickly go back home and resume your daily activities after the treatment. If you take time off from work, it will only take less than half of your day. 
The whole process will only run for around 1-2 hours, including the preparation. In preparing your skin, it will be cleaned, and a numbing agent will be put on your skin to prevent discomfort. 
Once you go home, you can experience some of these side effects as your skin heals from the microneedling treatment:
Mild redness

Mild swelling

Possible flaking
In 3-4 days, you will see and feel these sunburn-like effects on the skin. These are all normal and part of the process and will be gone sooner than you expect. You can even wear makeup again after 24 hours. 
The number of sessions you need will depend on your goals and the current state of your skin. Dr. Phillip Chang, head of Aesthetica Cosmetic Surgery and Laser Center, will be more than glad to work with you to achieve your aesthetic goals. He will check your medical history, assess the skin that needs treatment, and provide you with professional recommendations. In addition, he will assist you throughout the procedure and explain to you every step of the procedure and what you need to do pre and post-treatment. 
What's the Recommended Morpheus8 Aftercare?
The very core of Morpheus8 aftercare is moisturization and sun protection, a routine that we should adopt from a young age to help combat skin aging.
We strongly discourage touching or putting anything on your treated skin 12 hours after the session. Your skin is still vulnerable to infection during that time. Instead, give it time to heal and recuperate.
After 12 hours, you can apply a moisturizer or a hydrating cream to your skin to help it heal. During the day, don't forget to put a broad-spectrum sunblock, even if you are indoors, more so if you are going out.
During your consultation, Dr. Phillip Chang will walk you through the Morpheus8 procedure, what to avoid before the treatment, possible complications, and proper aftercare instructions. Dr. Chang is board-certified and listed as one of the Top 10 Plastic Surgeons in Northern Virginia. You can rest assured that you are in good hands and will receive outstanding service from the very best in cosmetic care.
If you have other questions about Morpheus8 Microneedling, don't hesitate to talk to us about it. We will do our very best to help you achieve the best results for your skin.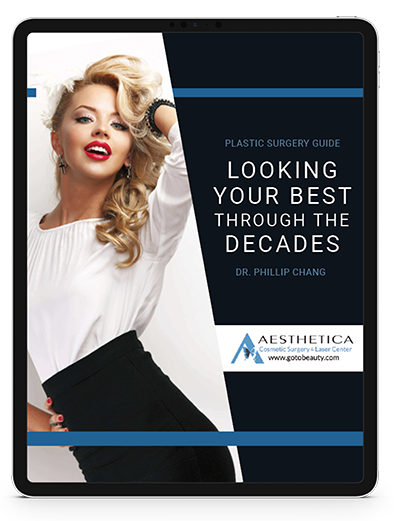 Insider's Roadmap to Every Decade of Life
Follow us on Youtube and watch our latest videos about plastic surgery procedures.
For those wondering whether Morpheus8 Microneedling might be the best cosmetic solution for you, we invite you to simply come in for a complimentary consultation with Dr. Chang or one of the cosmetic laser and injection nurses to explore whether you would make a good candidate. To find out more whether Aesthetica can help you, contact us online or at 703-729-5553 to arrange an appointment. Dr. Phillip Chang is a board-certified plastic surgeon in Northern Virginia near Leesburg, Virginia and an expert in a wide variety of cosmetic treatments.
Our office can provide you with helpful information, schedule a free consultation, and walk you through the many services and procedures we provide.
Contact Dr. Chang's Office:
If an animal has bitten you or someone you know, it is crucial to perform some first aid and then seek professional attention as soon as possible. Learn more about animal bites in this blog.
Read More »